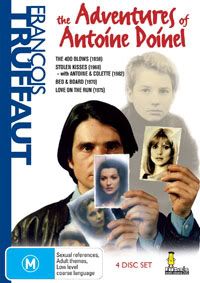 JB HiFi has once again restored my faith in quality bargain sales.
To celebrate the 50th Anniversary of
Les Quatre Cents Coups
(or The 400 Blows), I embarked upon a hunt to find my own copy of this momentous cinematic artwork.
The uni library has a few yellowed books but no copies of the movie to hire. But why hire when you can own?
Expecting a challenge, I was blown away by the sale at JB, stocking not just a copy of the winning 1959 film for Best Director at Cannes, but a 4 DVD set showcasing the
'Adventures of Antoine Doinel'!
Sacré bleu!
The lowdown:
Françious Truffaut, cinematic genius considered to be soley responsible for the New Wave era of french cinema, created a fictional character by the name of Antoine Doinel.
Between 1959 and 1979, Truffaut created five films following the mischievous Doinel as he matures through a life that closely follows the directors own, leading one to believe that the films are more of an autobiographical series.
All five Doinel films star the lively Jean-Pierre Léaud who formed a close friendship with the director.
Their similar appearances are striking, with Truffaut and Léaud only appearing face to face onscreen in
La Nuit Americaine
(1973) despite numerous cameos of the director in earlier productions.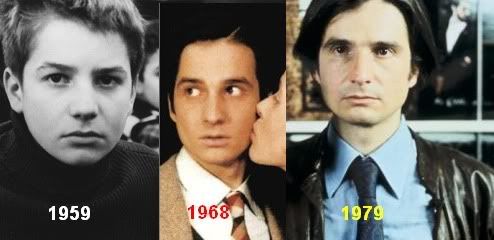 Over the 20 year span, audiences have watched Jean- Pierre Léaud grow into a livelier, resilient Antoine, alter-ego of the director, making this DVD set an amazing addition to any collection.
The set contains;
The 400 Blows
(or Le Quatre Cents Coups), 1959
The Brats
(or Les Mistons), 1957 - short film, 18minutes
Antoine and Collette
(or Antoine et Collette), 1962 - short film, 29minutes
Stolen Kisses
(or Baisers volés), 1968
Bed & Board
(or Domicile Conjugal), 1970
Love On The Run
(or L'amour en fuite), 1979
Plus all the original theatrical trailers, filmography and a 10 page booklet.  
I paid $37 for this incredible set - that's about 6bucks for each masterpiece!
Find yours at either JB HiFi or by logging onto
www.umbrellaent.com.au
and clicking on the World Cinema tab.